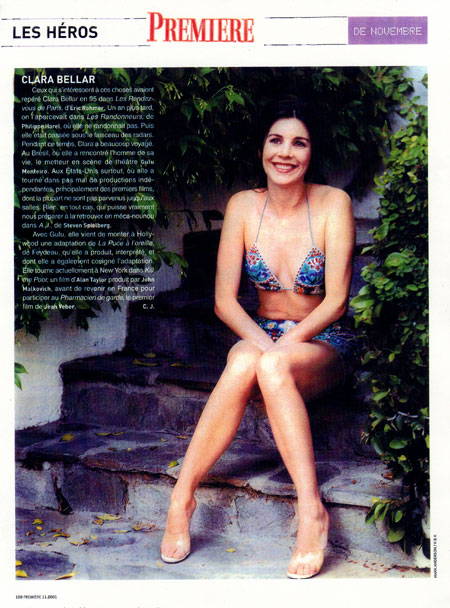 By Christian Jauberty - November 2001
Those who pay attention, may have noticed Clara Bellar in Eric Rohmer's 1995 film Rendez-Vous in Paris. One year later, she could be seen in Philippe Harel's The Hikers, in which she wasn't hiking. Then she traveled a lot. To Brazil, where she met the man of her life, the theater director Gulu Monteiro; then to the States, where she shot quite a few independent films, mostly first features, and most of which never got to theaters. But nothing could have prepared us to find her as a meca nanny, in Steven Spielberg's A.I.
With Gulu, she recently produced an adaptation of Feydeau's A Flea in Her Ear in Hollywood, in which she starred in and also translated. And currently Ms. Bellar is filming Kill the Poor in New York, a film by Alan Taylor produced by John Malkovich. Then it's back to France where she will participate in Jean Veber's fist film, The Pharmacist.
© 2004 - Clara Bellar .com - All Rights Reserved