"Romance and Rejection" aka "So This is Romance"
UK - 1997
Bloomsbury Films
Written and Directed by Kevin W. Smith
With Reece Dinsdale, Victoria Smurfit, Clara Bellar, John Hannah, Frank Finlay, Susannah York and Maryam d'Abo
Genre: Romantic Comedy
Setting: Contemporary London
Role: Sarah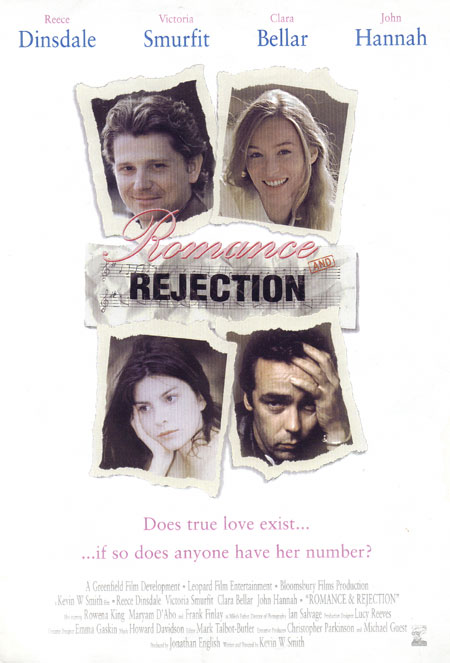 STORY:
Composer Mike (Reece Dinsdale) hopes to create symphonies. Instead, he dashes off jingles for TV commercials and gets rhapsodic over memories of ex-girlfriend Helen (Victoria Smurfit). Mike's carefree buddy Tony (John Hannah) is a painter who alternates alcohol and a stressful relationship with tempestuous Moira (Rowena King). Soon Mike's life takes several unexpected twists and turns. First, he falls in step with a French female, Sara (Clara Bellar). The attraction is mutual, so the two depart together on an idyllic vacation. Next, Mike locates his mother (Susannah York), who 35 years previous had left his father (Frank Finlay). Mike's misadventures are chronicled in a narration delivered by Dinsdale.
Premiered at the 1997 London Film Festival.
© 2004 - Clara Bellar .com - All Rights Reserved